Fully Automatic MA-VE levelling System for your Motor home.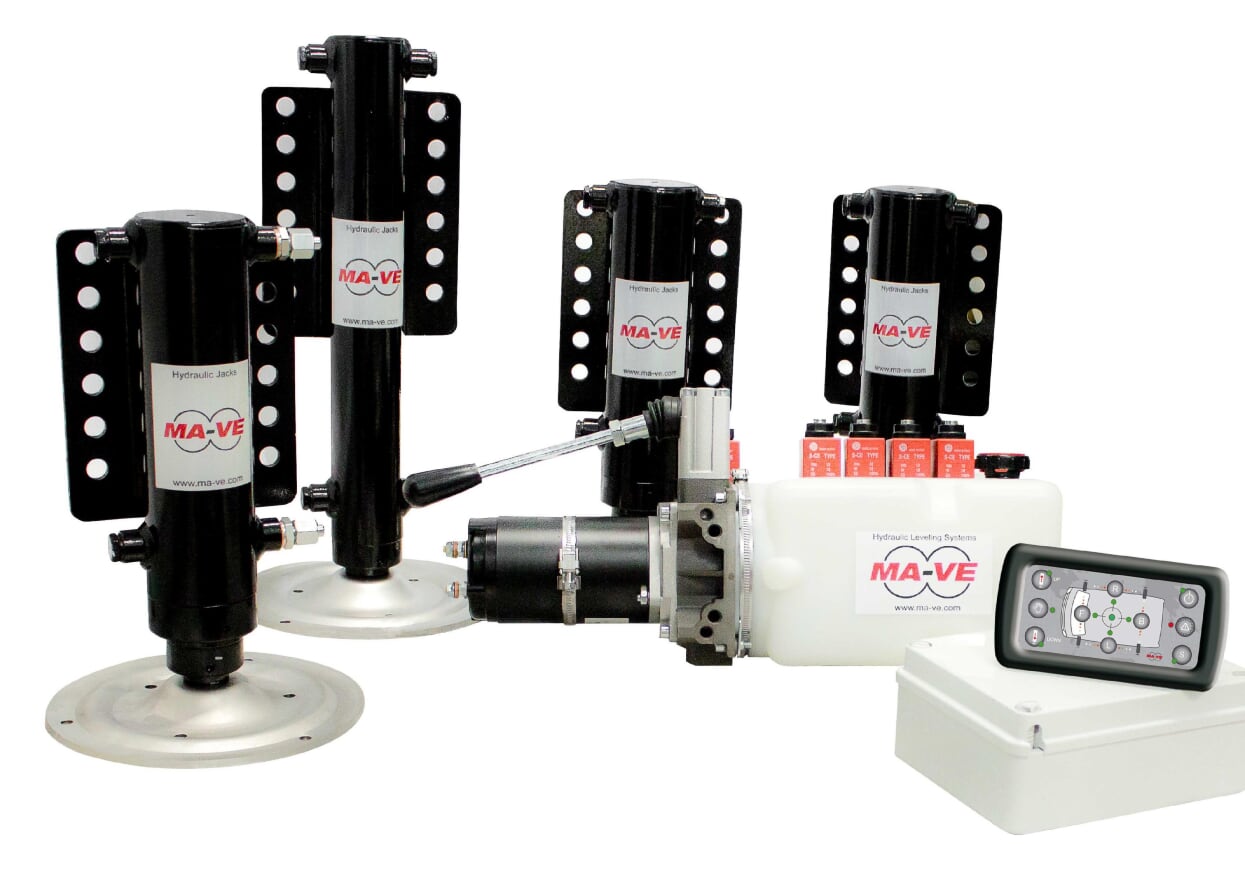 To have a stable and well-levelled motor home whilst parked is the dream of every motor home owner.
Your sleep will be much better and the motor home won't move when you do.
Changing a wheel will be simple and easy.

See how it works here.
The MA-VE automatic levelling system will offer you all these and the combination of price and quality will surprise you.
Designed and produced taking care of every detail.
We have taken into account the best quality, comfort, reliability and performance, putting this system at the top of its category.
It uses an electro-hydraulic pump and features a hand lever to retract the "feet" even in case of a breakdown of the unit.
There are different models of lifting jacks available in our range.
The various models are characterised by different lifting strengths, dimensions and operating abilities of the vehicle.
All models of motorhome jacks are coated 5 times to increase durability against corrosion (especially in the UK).
The large support plate prevents each jack from sinking into the ground which is strengthened by stainless steel ribs.
These plates are also provided with drain holes and are strongly fixed to the jacks, they can rotate to adapt to all types of ground and still guarantee the correct support.
The electronic control unit can be used to operate the levelling both manually and completely automatically.
It can also be used for different functions, such as the emptying of tanks.
The user interface is a simple control panel that will integrate perfectly into your vehicle thanks to its discreet and elegant design.
The benefits of a motorhome levelling:
Simple levelling at the push of a button.
Fully automatic hydraulic levelling jacks.
Sturdy and vibration-free position
Change any tyre easily
Additional theft protection & piece of mind
Maintenance-free with 3 year warranty
Completely hydraulic levelling system
Safety feature prevents driving off with hydraulic jacks deployed
Ready for immediate use
Improved waste water drainage from sink and shower
Jacks are retracted hydraulically, preventing them from getting stuck in mud.
FULLY FITTED AT OUR DURHAM WORKSHOP FROM £5495.00 INC VAT
Contact Us
Hedley Alarm & Towing Centre

Unit 21a Dragonville ind est

Gilesgate

Durham

DH1 2XL